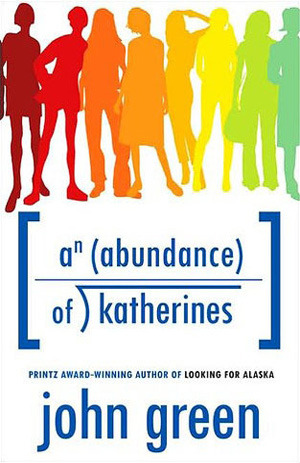 An Abundance of Katherines
John Green
Dutton Juvenile, 2006
Source: Library
Audience: Older Teens
From
Goodreads
:
Katherine V thought boys were gross
Katherine X just wanted to be friends
Katherine XVIII dumped him in an e-mail
K-19 broke his heart
When it comes to relationships, Colin Singleton's type happens to be girls named Katherine. And when it comes to girls named Katherine, Colin is always getting dumped. Nineteen times, to be exact.
On a road trip miles from home, this anagram-happy, washed-up child prodigy has ten thousand dollars in his pocket, a bloodthirsty feral hog on his trail, and an overweight, Judge Judy-loving best friend riding shotgun--but no Katherines. Colin is on a mission to prove The Theorem of Underlying Katherine Predictability, which he hopes will predict the future of any relationship, avenge Dumpees everywhere, and finally win him the girl. Love, friendship, and a dead Austro-Hungarian archduke add up to surprising and heart-changing conclusions in this ingeniously layered comic novel about reinventing oneself.
Well, this was disappointing. I read The Fault in Our Stars and loved it and I couldn't put Paper Towns down. Unfortunately, An Abundance of Katherines was a different story.
There was no air of mystery or challenge. In Paper Towns, I had to know what happened and where the girl went. In The Fault in Our Stars, I wanted to find out how the author search went and see the characters fall in love. In An Abundance of Katherines, Colin needs to move on after a break up. That doesn't have the same interest factor to me.
As far as characters go, Colin's character was whiney and annoying. He did know a lot of interesting trivia and that was fun. I'm not interested in math, so that got old because it was a major part of the plot. I know there was a reason for Lindsey's one-dimensional character, but the overall story suffered because of it. Hassan was good comic relief and I wanted to see him succeed. There was a lot of room for growth for all of the characters, and it could be that I'm just being too hard on them because I'm an adult now.
The biggest problem was that I went in with high expectations. I was expecting some of his best work because that's all I had read prior to this. I'm sure if I would have read An Abundance of Katherines first, I would have liked it a bit more.
It just wasn't for me. I'm sure a lot of other people love it!