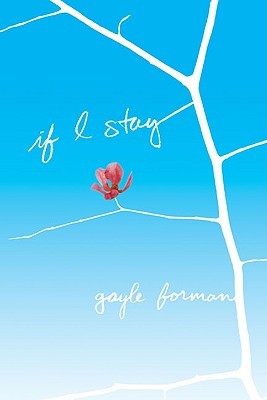 If I Stay
Gayle Forman
Dutton Juvenile, 2009
Audience: Older Teens
Source: My Own Bookshelf
From
Goodreads
:
Choices. Seventeen-year-old Mia is faced with some tough ones: Stay true to her first love—music—even if it means losing her boyfriend and leaving her family and friends behind?
Then one February morning Mia goes for a drive with her family, and in an instant, everything changes. Suddenly, all the choices are gone, except one. And it's the only one that matters.
If I Stay
is a heartachingly beautiful book about the power of love, the true meaning of family, and the choices we all make.
I am incredibly grateful for this book. It got Gayle Foreman a lot of attention and without that attention, I never would have read Just One Day. I loved that book. If I Stay wasn't my favorite but I liked it. Even though there was a lot going on in the book, I felt like not much was actually happening. (A lot of feelings, just not a lot of action.) I'm used to more action, I guess.
I felt like I knew how it was going to end (because there's a sequel) but I LOVED THE ENDING. It was so beautiful. Throughout the story, I liked how the main character seemed to have a mind of her own and described what she was feeling so well. She loved her boyfriend but was not dependent on him and I loved her passion for music.
I'm looking forward to reading the sequel. I want to know how the story continues considering everything that happened in this book.