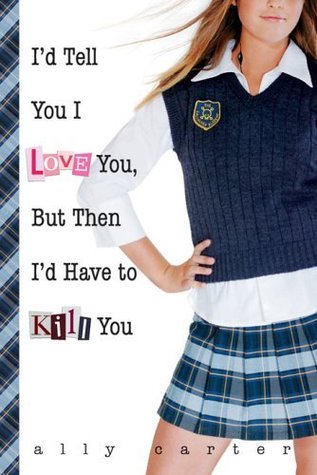 I'd Tell You I Love You, But Then I'd Have to Kill You
Ally Carter
Disney-Hyperion, 2006
Audience: All Teens
Source: Borrowed
From
Goodreads
:
Cammie Morgan is a student at the Gallagher Academy for Exceptional Young Women, a fairly typical all-girls school-that is, if every school taught advanced martial arts in PE and the latest in chemical warfare in science, and students received extra credit for breaking CIA codes in computer class. The Gallagher Academy might claim to be a school for geniuses but it's really a school for spies. Even though Cammie is fluent in fourteen languages and capable of killing a man in seven different ways, she has no idea what to do when she meets an ordinary boy who thinks she's an ordinary girl. Sure, she can tap his phone, hack into his computer, or track him through town with the skill of a real "pavement artist"-but can she maneuver a relationship with someone who can never know the truth about her?
Cammie Morgan may be an elite spy-in-training, but in her sophomore year, she's on her most dangerous mission-falling in love.
I can't believe myself! I read this one AND FORGOT TO REVIEW IT.
I didn't even put it on my Goodreads shelf!
Maybe this is why I'm so far behind in my TBR goals this year?
Anyway, this was a fun quick read. I loved the school. I remember telling my sister that I would rather go to this school than Hogwarts. Wouldn't it be so awesome to learn how to be a spy??? I fully intend to read the next books as soon as I can... but that might be a while!