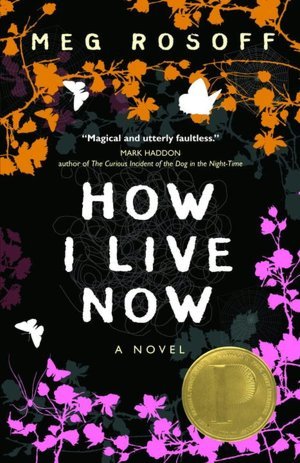 How I Live Now
Meg Rosoff
Wendy Lamb Books, 2004
Audience: Older Teens
Source: Nook Bookshelf
From
Goodreads
:
Fifteen-year-old Daisy is sent from Manhattan to England to visit her aunt and cousins she's never met: three boys near her age, and their little sister. Her aunt goes away on business soon after Daisy arrives. The next day bombs go off as London is attacked and occupied by an unnamed enemy.
As power fails, and systems fail, the farm becomes more isolated. Despite the war, it's a kind of Eden, with no adults in charge and no rules, a place where Daisy's uncanny bond with her cousins grows into something rare and extraordinary. But the war is everywhere, and Daisy and her cousins must lead each other into a world that is unknown in the scariest, most elemental way.
A riveting and astonishing story.
I read this short book on a road trip with my sister and friend. It was perfect for the situation because I could skim it while distracted by chatting. It was told in a stream of consciousness style, which fit the tense situation well. How I Live Now made me thing about what a modern-day war would look like in my city. I wasn't a big fan of the romance, however. This departed from the normal teen book. I'll probably recommend it to library readers looking for something different. I'm looking forward to seeing the movie, too. I'm curious as to how they include the love interest and show the war.