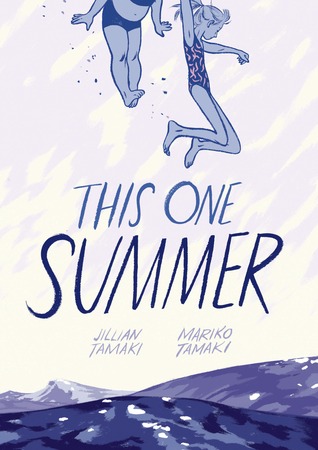 This One Summer
Julian Tamaki and Mariko Tamaki
First Second, 2014
Audience: Older Teens
Source: Library
From
Goodreads
:
Every summer, Rose goes with her mom and dad to a lake house in Awago Beach. It's their getaway, their refuge. Rosie's friend Windy is always there, too, like the little sister she never had. But this summer is different. Rose's mom and dad won't stop fighting, and when Rose and Windy seek a distraction from the drama, they find themselves with a whole new set of problems. It's a summer of secrets and sorrow and growing up, and it's a good thing Rose and Windy have each other.
In This One Summer two stellar creators redefine the teen graphic novel. Cousins Mariko and Jillian Tamaki, the team behind Skim, have collaborated on this gorgeous, heartbreaking, and ultimately hopeful story about a girl on the cusp of her teen age—a story of renewal and revelation.
I love First Second books. They're one of my favorite publishers, so I was looking forward to reading this book. It was just ok, though. The story was interesting but underwhelming and I didn't really connect with the main character, probably because she didn't connect with what was going on in her family. The art was amazing and overshadowed the story a bit, too.