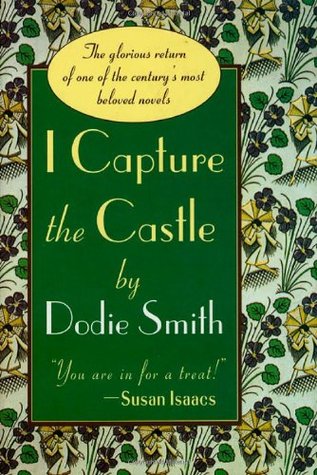 I Capture the Castle
Dodie Smith
Wyatt Book, 1948
Audience: All Teens
Source: Library
From
Goodreads
:
Dodie Smith's first novel transcends the oft-stodgy definition of "a classic" by being as brightly witty and adventuresome as it was when published nearly fifty years ago.
Seriously, Goodreads? That's your description?
I couldn't find a good description of this book ANYWHERE. I had no clue what it was about. I saw that reviewers recommended it for people who like Jane Austen. So I thought that was a good sign. We were reading it for our book club, even though it was in our adult section.
Here's my description of the story: A 17-year-old girl lives in an old castle and her family has no money because her father won't work. One day, new neighbors move in - and they are rich. Romance develops for the main character's sister.
Here's how I felt about it: I had heard it described as wonderfully romantic and that teens loved the story. I did not think it was romantic at all and I didn't really enjoy the book. Spoilers ahead!!!
The ending was what annoyed me. The story was beautifully written; Dodie Smith has a gift for words and descriptions. However, I didn't want the main character to end up alone and I didn't want her to end up with one of the tools next door. I didn't like that the main character fell in love with one of the tools. I wanted her to fall for the guy who was clearly in love with her and have the player end up alone. From the beginning, I saw who the sister should be with, too. In general, I felt like this didn't show teen girls how to pick a good guy. It seemed like a bad example of what romance should be.
I didn't think the story was very Austen-esque. It seemed like a sad imitation of it, and that people compared it to Jane Austen's work because of the determination to get married. Her work is about so much more than that! So I was disappointed.
So, overall, this was not my favorite.