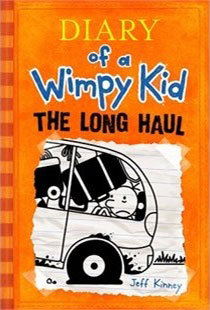 Diary of a Wimpy Kid: The Long Haul
Jeff Kinney
Amulet Books, 2014
Source: Library
Audience: Younger Teens
From
Goodreads
:
Greg Heffley and his family hit the road in author-illustrator Jeff Kinney's latest installment of the phenomenally bestselling Diary of a Wimpy Kid series.
A better subtitle for this book, though not children-friendly, would be "The Road Trip from Hell." I can't even imagine this happening realistically, which is why it's probably so much fun to read. I kept thinking to myself, "My mom would NEVER do that. The boat would not have happened and we never would have left that water park without searching EVERY locker." We would have totally given up way earlier than the Heffleys. I certainly hope none of the road trip episodes happened to Jeff Kinney.
The ideas were wild, and while "same old, same old" sounds kind of negative, it didn't disappoint!