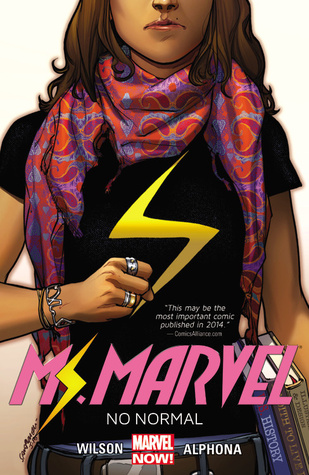 Ms. Marvel: No Normal
G. Willow Wilson and Adrian Alphona
Marvel, 2014
Source: Library
Audience: All Teens
From
Goodreads
:
Kamala Khan is an ordinary girl from Jersey City — until she's suddenly empowered with extraordinary gifts. But who truly is the new Ms. Marvel? Teenager? Muslim? Inhuman? Find out as she takes the Marvel Universe by storm! When Kamala discovers the dangers of her newfound powers, she unlocks a secret behind them, as well. Is Kamala ready to wield these immense new gifts? Or will the weight of the legacy before her be too much to bear? Kamala has no idea, either. But she's comin' for you, New York!
I had no idea that there was a Captain Marvel or that she was a girl! Why hasn't this been made into a movie? I like superheroes, but I know I'm not an expert on them. Most of what I know comes from cartoons that I saw as a kid and the blockbuster movies that come out now. It's a shame that women aren't a bigger part of them and that almost all superheroes are white. Who doesn't want a superhero to be similar to themselves? Variety, baby!
I wasn't too sure about how I felt about this one at first. In the end, I loved it and the message. I'm glad this is a strong story with quality art. It isn't overrated in the slightest and I look forward to seeing the Ms. Marvel movie!