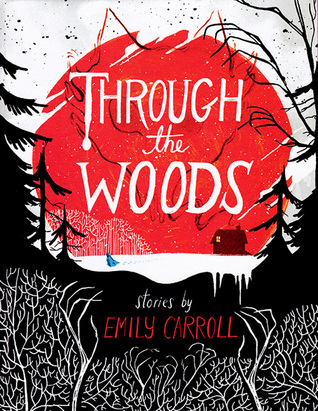 Through the Woods
Emily Carroll
Margaret K. McElderry Books, 2014
Source: Library
Audience: Older Teens
From
Goodreads
:
'It came from the woods. Most strange things do.'
Five mysterious, spine-tingling stories follow journeys into (and out of?) the eerie abyss.
These chilling tales spring from the macabre imagination of acclaimed and award-winning comic creator Emily Carroll.
Come take a walk in the woods and see what awaits you there...
My favorite thing about this book was the use of color. The shades Carroll picked were bold and amazing. They were perfect to capture the mood of the book. This collection of short stories was dark and creepy and so good. The tales start off quietly creepy (and grotesque at times) crescendo to terrifying. If you like scary stories and fairy tales, you'll love this book.