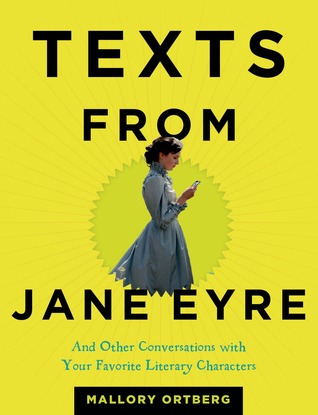 Texts from Jane Eyre
Mallory Ortberg
Henry Holt and Co, 2014
Audience: All Teens (in spite of a few swear words)
Source: My Own Bookshelf
From
Goodreads
:
Hilariously imagined text conversations—the passive aggressive, the clever, and the strange—from classic and modern literary figures, from Scarlett O'Hara to Jessica Wakefield.
Mallory Ortberg, the co-creator of the cult-favorite website
The Toast
, presents this whimsical collection of hysterical text conversations from your favorite literary characters. Everyone knows that if Scarlett O'Hara had an unlimited text-and-data plan, she'd constantly try to tempt Ashley away from Melanie with suggestive messages. If Mr. Rochester could text Jane Eyre, his ardent missives would obviously be in all-caps. And Daisy Buchanan would not only text while driving, she'd text you to pick her up after she totaled her car. Based on the popular web-feature,
Texts from Jane Eyre
is a witty, irreverent mashup that brings the characters from your favorite books into the twenty-first century.
I had high hopes for this one. It has a blurb from Rainbow Rowell! It was fun to read, but not as fun as I expected. I did skip a few because I didn't want to spoil the endings. I wouldn't necessarily recommend it as a book to sit and read, but it would be fantastic to put on your coffee table for other people to look through. Some of the passages were hilarious, others were lame. What bothered me most was the fact that some of the characters had personality changes. A lot of the messages were whiney or mean when they didn't need to be. Also, I was expecting the texts to tell the whole story, but they usually only told snippets. It's a fun book to look at, but go in with lower expectations than I did.