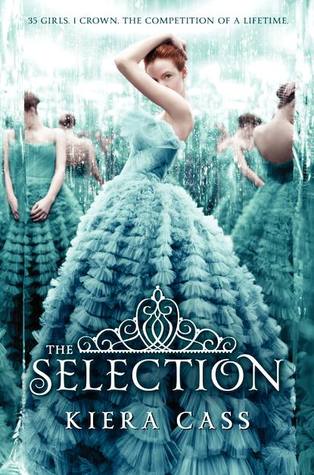 The Selection
Kiera Cass
HarperTeen, 2012
Audience: All Teens
Source: Library
From
Goodreads
:
For thirty-five girls, the Selection is the chance of a lifetime. The opportunity to escape the life laid out for them since birth. To be swept up in a world of glittering gowns and priceless jewels. To live in a palace and compete for the heart of gorgeous Prince Maxon.
But for America Singer, being Selected is a nightmare. It means turning her back on her secret love with Aspen, who is a caste below her. Leaving her home to enter a fierce competition for a crown she doesn't want. Living in a palace that is constantly threatened by violent rebel attacks.
Then America meets Prince Maxon. Gradually, she starts to question all the plans she's made for herself--and realizes that the life she's always dreamed of may not compare to a future she never imagined.
Initially, I heard really bad reviews about this book. Two of my favorite fellow readers really liked it, though, so I tried it. It wasn't so bad. I don't understand what all of the fuss was about. It was sort of like Cinderella and The Bachelor with a dash of The Hunger Games. I liked it. It wasn't my favorite book I've read this year, but it was fun and I plan on finishing the trilogy. I do think that this could have been done in one book instead of dragging it out, but I feel that way about many other trilogies in YA. As far as the love triangle goes, I strongly dislike Aspen. I don't have any patience for him and I'm definitely rooting for America to go after Prince Maxon, who is sweet and smart and clearly likes her.
If she goes for Aspen, we may have a problem!