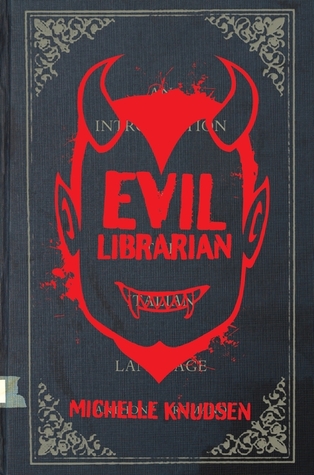 Evil Librarian
Michelle Knudsen
Candlewick, 2014
Source: E-Galley
Audience: All Teens
From
Goodreads
:
When Cynthia Rothschild's best friend, Annie, falls head over heels for the new high-school librarian, Cyn can totally see why. He's really young and super cute and thinks Annie would make an excellent library monitor. But after meeting Mr. Gabriel, Cyn realizes something isn't quite right. Maybe it's the creepy look in the librarian's eyes, or the weird feeling Cyn gets whenever she's around him. Before long Cyn realizes that Mr. Gabriel is, in fact . . . a demon. Now, in addition to saving the school musical from technical disaster and trying not to make a fool of herself with her own hopeless crush, Cyn has to save her best friend from the clutches of the evil librarian, who also seems to be slowly sucking the life force out of the entire student body! From best-selling author Michelle Knudsen, here is the perfect novel for teens who like their horror served up with a bit of romance, plenty of humor, and some pretty hot guys (of both the good and evil variety).
So I didn't get very far into this book. I'm not typically a quitter, but I got a general vibe from this book as to how it would go and I had other things to read. (Also, I'm not 100% sure on the appropriate audience for this book because I didn't finish it.)
However, I do think that people who used to love the Bailey School Kids series will love this book! It had a silly, creepy tone and the plot moved quickly. I was hoping for more librarian-friendly inside jokes but was disappointed. It focused on the teens, and therefore I think teens will like it more than I did. It's a great idea for a story!