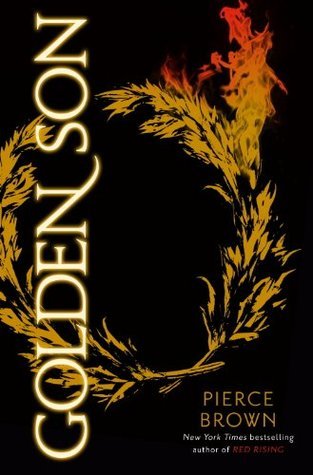 Golden Son
Pierce Brown
Del Rey, 2015
Audience: Adults
Source: E-Galley
From
Goodreads
:
With shades of
The Hunger Games
,
Ender's Game
, and
Game of Thrones
, debut author Pierce Brown's genre-defying epic R
ed Rising
hit the ground running and wasted no time becoming a sensation.
Golden Son
continues the stunning saga of Darrow, a rebel forged by tragedy, battling to lead his oppressed people to freedom from the overlords of a brutal elitist future built on lies. Now fully embedded among the Gold ruling class, Darrow continues his work to bring down Society from within.
A life-or-death tale of vengeance with an unforgettable hero at its heart,
Golden Son
guarantees Pierce Brown's continuing status as one of fiction's most exciting new voices.
This was a DNF for me. I didn't get very far. I remembered absolutely nothing from the first book. Zilch. I was super excited to see it available as a galley. I remembered that I wasn't wild about the first one, but I thought I would give the second one a chance if I had time.
It turns out, I didn't have time. I went back and read my review for the first one and wondered why I even tried reading it. This just isn't the right book series for me. I know other people love it and it's well written, but once I saw that I didn't really like the first book, I definitely felt ok moving on to other things.
I will recommend this series to other people who like science fiction for sure. I just chose to read something else instead.
Unfortunately, all of my DNFs end up with one star on Goodreads. It makes me feel terrible to do that, but it's the only way I give out just one star.