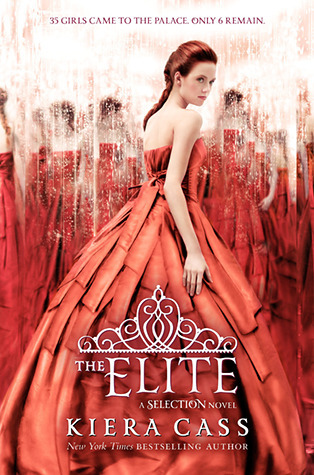 The Elite
Kiera Cass
HarperTeen, 2013
Source: Library
Audience: All Teens
From
Goodreads
:
The Selection began with thirty-five girls.
Now with the group narrowed down to the six Elite, the competition to win Prince Maxon's heart is fiercer than ever—and America is still struggling to decide where her heart truly lies. Is it with Maxon, who could make her life a fairy tale? Or with her first love, Aspen?
America is desperate for more time. But the rest of the Elite know exactly what they want—and America's chance to choose is about to slip away.
Oh, the middle book of the trilogy. Oh, the love triangle. Don't you just love trends in teen fiction?
Normally, I root for the bad boy in love triangles. I preferred Jess over Dean in Gilmore Girls, even though I knew Dean was more trustworthy. I preferred Gale in The Hunger Games because he was always there for Katniss, even though I knew Peeta was a great guy. However, in The Selection books, I'm rooting for Prince Maxon, 100%! I have no idea why America is even considering Aspen. I just don't trust him at all. I don't think this decision should be a struggle, especially for someone who has as much spunk and intelligence as America. I'm looking forward to book 3, even though I'm worried it'll be more debating between the two guys. Let's hope she chooses wisely!