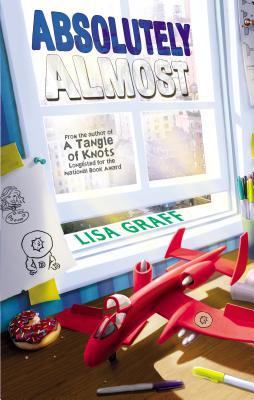 Absolutely Almost
Lisa Graff
Philomel Books, 2014
Source: Galley, Library
Audience: Younger Teens
From
Goodreads
:
Albie has never been the smartest kid in his class. He has never been the tallest. Or the best at gym. Or the greatest artist. Or the most musical. In fact, Albie has a long list of the things he's not very good at. But then Albie gets a new babysitter, Calista, who helps him figure out all of the things he
is
good at and how he can take pride in himself.
I have a small complaint. The cover doesn't seem to fit the story to me. Yes, the plane was important and yes, Albie loved donuts, but it doesn't fit the feel of the book. Also, it doesn't have a picture of Albie on the front, and he was part Asian. Our covers on books need to portray our diverse population. It's a shame.
This book was about relationships with family members and people who are like family. That support system helps Albie during his struggles at school. I loved Albie. He had such a kind heart and he tried so hard, and unfortunately, his parents didn't give him enough positive attention or credit. I think younger kids will identify with the made character and feel for him. It was incredibly well-written and I enjoyed reading it.