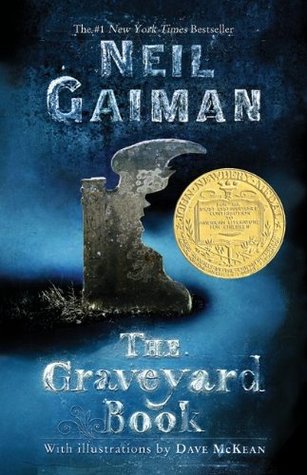 The Graveyard Book
Neil Gaiman
HarperCollins, 2008
Source: Library
Audience: Children, Teens
From
Goodreads
:
After the grisly murder of his entire family, a toddler wanders into a graveyard where the ghosts and other supernatural residents agree to raise him as one of their own.
Nobody Owens, known to his friends as Bod, is a normal boy. He would be completely normal if he didn't live in a sprawling graveyard, being raised and educated by ghosts, with a solitary guardian who belongs to neither the world of the living nor of the dead. There are dangers and adventures in the graveyard for a boy. But if Bod leaves the graveyard, then he will come under attack from the man Jack—who has already killed Bod's family . . .
Beloved master storyteller Neil Gaiman returns with a luminous new novel for the audience that embraced his New York Times bestselling modern classic Coraline. Magical, terrifying, and filled with breathtaking adventures, The Graveyard Book is sure to enthrall readers of all ages.
Love Neil Gaiman! He is one of those writers that has such a fluid style that you find yourself missing things if you're not careful. Overall, I enjoyed reading this book, but it wasn't my favorite. It wasn't outright scary, but I appreciated the creepy mysteriousness of the book. It was confusing in parts, but mostly came together at the end.