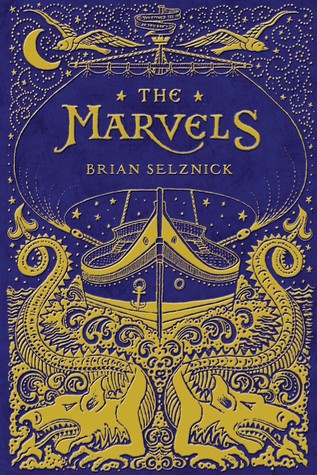 The Marvels
Brian Selznick
Scholastic Press, 2015
Source: My Own Bookshelf
Audience: Everyone
From
Goodreads
:
Caldecott Award winner and bookmaking trailblazer Brian Selznick once again plays with the form he invented and takes readers on a voyage!

Two seemingly unrelated stories--one in words, the other in pictures--come together. The illustrated story begins in 1766 with Billy Marvel, the lone survivor of a shipwreck, and charts the adventures of his family of actors over five generations. The prose story opens in 1990 and follows Joseph, who has run away from school to an estranged uncle's puzzling house in London, where he, along with the reader, must piece together many mysteries.
I was so excited about this book that I went out and paid full price for it, just so I could read it right away. It was totally worth it. It was the perfect time to read an easy book, and the illustrations were amazing, as always. The book itself is BEAUTIFUL. The gold, the purple, the cover, oh my! The story was pretty heavy. It's follows a family of actors through the generations, which means there are a lot of deaths in the story. When it gets to the 90s, a boy learns more about his family while visiting his uncle. It was well done, and handled tough subjects perfectly.