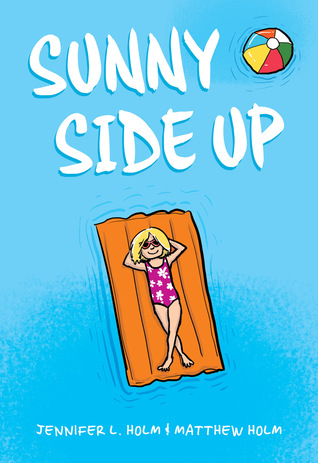 Sunny Side Up
Jennifer L. Holm and Matthew Holm
GRAPHIX, 2015
Source: Library
Audience: Children, Younger Teens
From
Goodreads
:
From the groundbreaking and award-winning sister-brother team behind Babymouse comes a middle-grade, semi-autobiographical graphic novel.
Following the lives of kids whose older brother's delinquent behavior has thrown their family into chaos,
Sunny Side Up
is at once a compelling "problem" story and a love letter to the comic books that help the protagonist make sense of her world.
By sister-bother team Jennifer and Matthew Holm. A 200-page, full-color graphic novel in the vein of Raina Telgemeier's
Smile
.
This is a great read alike for fans of Rana Telgemeier books like Smile, Sister and Drama. It has serious, real-life themes that are shown in an age-appropriate way. In this book, Sunny's brother has an addiction problem. Instead of a fantastic summer vacation with a friend, Sunny is sent to visit her grandfather in Florida. Through flashbacks, we learn more about her brother and why she ended up in Florida. I thought it was explained perfectly to Sunny. My only complaint was that we didn't see what happened to her brother. Perhaps a sequel is in the works?