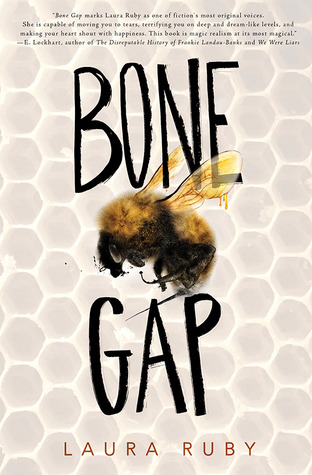 Bone Gap
Laura Ruby
Balzer + Bray, 2015
Source: E-Galley, Library
Audience: Older Teens
From
Goodreads
:
Everyone knows Bone Gap is full of gaps—gaps to trip you up, gaps to slide through so you can disappear forever. So when young, beautiful Roza went missing, the people of Bone Gap weren't surprised. After all, it wasn't the first time that someone had slipped away and left Finn and Sean O'Sullivan on their own. Just a few years before, their mother had high-tailed it to Oregon for a brand new guy, a brand new life. That's just how things go, the people said. Who are you going to blame?
Finn knows that's not what happened with Roza. He knows she was kidnapped, ripped from the cornfields by a dangerous man whose face he cannot remember. But the searches turned up nothing, and no one believes him anymore. Not even Sean, who has more reason to find Roza than anyone, and every reason to blame Finn for letting her go.
As we follow the stories of Finn, Roza, and the people of Bone Gap—their melancholy pasts, their terrifying presents, their uncertain futures—acclaimed author Laura Ruby weaves a heartbreaking tale of love and loss, magic and mystery, regret and forgiveness—a story about how the face the world sees is never the sum of who we are.
In a word,
Bone Gap
was
different
; in a phrase, it was a modern fairy tale. It reminded me of both A.S. King and Sarah Addison Allen's books. The story had elements of magical realism, fantasy, fairy tale, romance and mystery. In spite of the fact that I love all of those things, I found
Bone Gap
difficult to read. I think I had a hard time focusing on everything that was happening and all of those elements together made it hard for me to figure out where the story was going. I completely understand why it won the Printz award. In addition to being different, it was well-written and used plenty of literary devices. Abandonment, desperation and bees were are important to the telling of this tale. I liked it, but I wish I would have been prepared for something so cerebral.