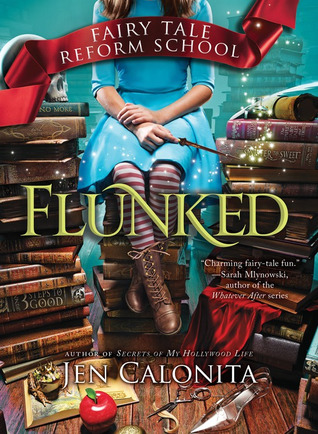 Flunked
Jen Calonita
Sourcebooks Jabberwocky, 2015
Source: Library
Audience: Younger Teens, Children
From
Goodreads
:
Would you send a villain to do a hero's job? An exciting new twisted fairy tale series from award-winning author Jen Calonita.

Full of regret, Cinderella's wicked stepmother, Flora, has founded the Fairy Tale Reform School with the mission of turning the wicked and criminally mischievous into upstanding members of Enchantasia.

Impish, sassy 12-year-old Gilly has a history of petty theft and she's not too sorry about it. When she lifts a hair clip, she gets tossed in reform school-for at least three months. But when she meets fellow students Jax and Kayla, she learns there's more to this school than its sweet mission. There's a battle brewing and she starts to wonder: can a villain really change?
I have a few more complaints than usual in this post. AND WAY MORE SPOILERS.
So proceed with caution.
Overall, it was a fun fairy tale book. It had loads of magic and adventure and a spunky anti-hero as the main character. I know it's a middle grade book, but I would have liked to have seen some romance. In general, it reminded me a bit of Harry Potter, because it involved kids that trip into a dangerous situation and become unlikely heroes that save the school. I'm looking forward to seeing the main character grow into a better person in the next few books.
Now for the spoilers and dislikes.
First, I didn't like how we were constantly being told details about which witch was which. I feel like if the characters are well-written, readers should be able to tell which character is based on which fairy tale. Additionally, if the author is constantly reminding the reader of something, it doesn't show much faith in the audience.
Second, I was super confused about Gottie. On page 46,
Flunked
states, "I'm talking, of course, about the infamous villains in hiding - Alva, the cranky fairy who cursed Sleeping Beauty (Stay away from those spinning wheels!), and Gottie, Rapunzel's kidnapper (Here's a nice tower we can lock you in forever!)." However, on page192, it reads, "'I know the world sees Gottie as the monster who cursed Sleeping Beauty, but when I lost my family to Rumpelstiltskin, she was kind to me when no one else was."
Huh? I thought Alva was the witch from Sleeping Beauty, but now Gottie is?
Did I miss something?
Everything made more sense once we found out that Alva and Gottie may be one and the same.
So did an editor miss something? Did I as a reader miss something? Was it a clue to the future revelation of the twist?
Because if it was a clue, it didn't work well. It just confused me.