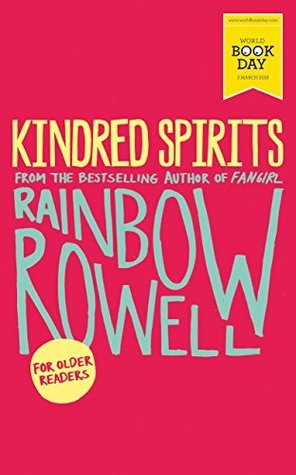 Kindred Spirits
Rainbow Rowell
Macmillan Kids UK, 2016
Audience: Everyone
Source: My Own Bookshelf
From
Goodreads
:
'Everybody likes everything these days. The whole world is a nerd.'
'Are you mad because other people like Star Wars? Are you mad because people like me like Star Wars?'
'Maybe.'
If you broke Elena's heart, Star Wars would spill out. So when she decides to queue outside her local cinema to see the new movie, she's expecting a celebration with crowds of people who love Han, Luke and Leia just as much as she does. What she's not expecting is to be last in a line of only three people; to have to pee into a collectible Star Wars soda cup behind a dumpster or to meet that unlikely someone who just might truly understand the way she feels. Kindred Spirits is an engaging short story by Rainbow Rowell, author of the bestselling Eleanor & Park, Fangirl and Carry On, and is part of a handful of selected short reads specially produced for World Book Day.
Holy smokes.
I ordered ONE copy of
Kindred Spirits
. Instead, I was sent one UNIT of
Kindred Spirits
- containing way more copies of it that I will ever need. It was like Christmas!! So BOOKS FOR EVERYONE. I'm giving them away to friends and my local library. Maybe, if I have some leftover, I'll have to give some away here!
This story was way too short. I know it was supposed to be a short story, but I wanted to know more!
What.
Else.
Happens.
Who knew a story about waiting in line could be so interesting? Rainbow Rowell could definitely flesh this out into more books if she wanted. Who knows - maybe she will someday!