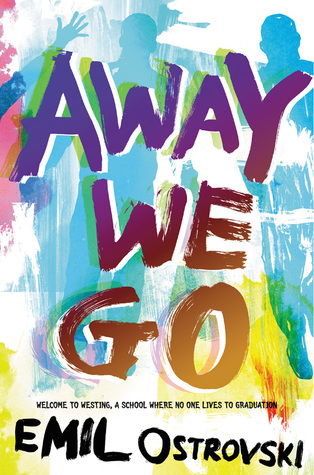 Away We Go
Emil Ostrovski
Greenwillow Books, 2016
Source: E-Galley
Audience: Older Teens
From
Goodreads
:
Westing is not your typical school. For starters, you have to have one very important quality in order to be admitted—you have to be dying. Every student at Westing has been diagnosed with PPV, or the Peter Pan Virus. No one is expected to live to graduation.

What do you do when you go to a school where no one has a future? Noah Falls, his girlfriend Alice, and his best friend Marty spend their time drinking, making out, and playing video games on awaywego.com. But when an older boy named Zach (who Noah may or may not be in love with) invites Noah and Marty to join his secret Polo Club, the lives of both boys change as they struggle to find meaning in their shortened existence.

With an innovative format that includes interstitial documents, such as flyers, postcards, and handwritten notes, Away We Go is a funny, honest look at first love and tragic heartbreak.
I didn't finish
Away We Go
. I just couldn't do it. I wanted to read it because it seemed similar to
Extraordinary Means
by Robyn Schneider. Unfortunately,
Away We Go
was not well-written or unique enough for me. I decided life was too short to finish this book when it had completely lost me. The characters weren't developed enough, and I really didn't care about the main character at all. I was so disappointed.