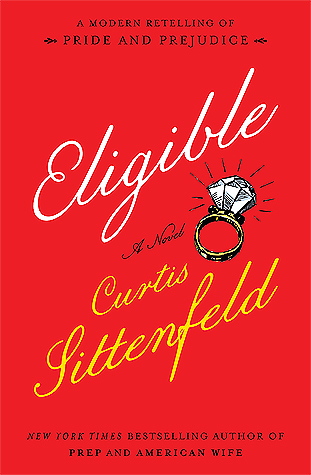 Eligible: A Modern Retelling of Pride and Prejudice
Curtis Sittenfeld
Random House, 2016
Source: E-Galley
Audience: Adults, Older Teens
From
Goodreads
:
This version of the Bennet family—and Mr. Darcy—is one that you have and haven't met before: Liz is a magazine writer in her late thirties who, like her yoga instructor older sister, Jane, lives in New York City. When their father has a health scare, they return to their childhood home in Cincinnati to help—and discover that the sprawling Tudor they grew up in is crumbling and the family is in disarray.
Youngest sisters Kitty and Lydia are too busy with their CrossFit workouts and Paleo diets to get jobs. Mary, the middle sister, is earning her third online master's degree and barely leaves her room, except for those mysterious Tuesday-night outings she won't discuss. And Mrs. Bennet has one thing on her mind: how to marry off her daughters, especially as Jane's fortieth birthday fast approaches.
Enter Chip Bingley, a handsome new-in-town doctor who recently appeared on the juggernaut reality TV dating show Eligible. At a Fourth of July barbecue, Chip takes an immediate interest in Jane, but Chip's friend neurosurgeon Fitzwilliam Darcy reveals himself to Liz to be much less charming. . . .
And yet, first impressions can be deceiving.
Wonderfully tender and hilariously funny, Eligible both honors and updates Austen's beloved tale. Tackling gender, class, courtship, and family, Sittenfeld reaffirms herself as one of the most dazzling authors writing today.
I thoroughly enjoyed the writing style in
Eligible
. However, it was really long and it felt like it took forever to read. (Probably because I knew how it would end? I just wanted to get to the proposal.) I liked the modern twists that Sittenfeld took with the story, and
Eligible
is one of the better Austen retellings that I have read. For the most part, the it aligned well with
Pride and Prejudice
.
However, Lydia's scandal and Darcy's role didn't have the same effect as they did in
Pride and Prejudice
. Most importantly, Darcy coming to the rescue in
Eligible
didn't have quite the same swoon-worthiness and magnitude as his actions in
Pride and Prejudice
. In
Eligible
, the situation wasn't as dire and he just helped Mrs. Bennet move past her ignorance, whereas in
Pride and Prejudice
, Lydia's reputation would have been completely ruined. Her reputation would have reflected on her family as well. Furthermore, Lydia's disastrous actions had nothing to do with the "Wickham" character in
Eligible
, and "Wickham's" actions weren't as scandalous and didn't involved "Georgiana" either. Therefore, the entire situation fell a bit flat to me.
The only other big difference to me was that Lady Catherine de Bourgh was less important in
Eligible
than she was in
Pride and Prejudice
. She was just a character that Liz interviewed in
Eligible
, and she didn't chew out Liz, nor was she connected to any other character. Everything else was mostly on point. Some storylines were added, especially with Mary's story, but they didn't distract from the main plots. I'm glad I read
Eligible
, and I need to read the other Austen Project books!