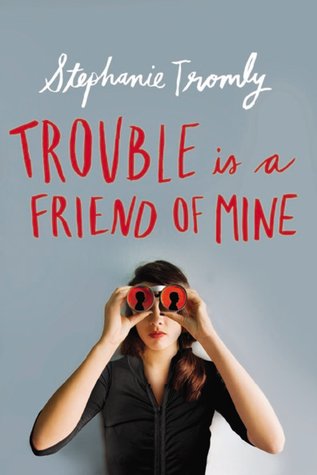 Trouble is a Friend of Mine
Stephanie Tromly
Kathy Dawson Books, 2015
Audience: All Teens
Source: E-Galley
From
Goodreads
:
Of course I didn't like Digby when I first met him. No one does.
The first time Philip Digby shows up on Zoe Webster's doorstep, he's rude and he treats her like a book he's already read and knows the ending to.
But before she knows it, Zoe's allowed Digby—annoying, brilliant, and somehow…attractive? Digby—to drag her into a series of hilarious, dangerous, and only vaguely legal schemes all related to the kidnapping of a local teenage girl. A kidnapping that might be connected to the tragic disappearance of his little sister eight years ago. When it comes to Digby, Zoe just can't say no.
But is Digby a hero? Or is his manic quest an indication of a desperate attempt to repair his broken family and exorcize his own obsessive-compulsive tendencies? And does she really care anyway?
This is a contemporary debut with razor-sharp dialogue, ridiculously funny action, and a dynamic duo you won't soon forget.
My first impression of
Trouble is a Friend of Mine
was that the author took everything she liked, put it in a bag, and shook it out and put a modern spin on it. However bad that might sound, this book was silly and fun. It had heart, adventure and quirkiness that was perfect. The little twist at the end made the book wonderful. I enjoyed unraveling the mystery, and luckily, I liked all of the same things that Stephanie Tromly did too.