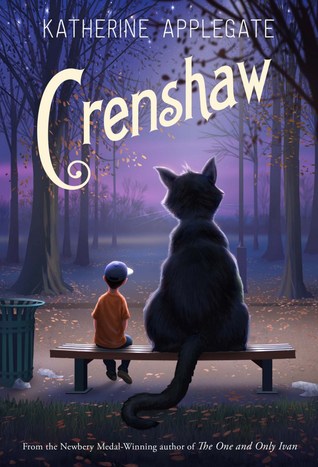 Katherine Applegate
Feiwel & Friends, 2015
Source: Library
Audience: Children
From
Goodreads
:
In her first novel since winning the Newbery Medal, Katherine Applegate delivers an unforgettable and magical story about family, friendship, and resilience.
Jackson and his family have fallen on hard times. There's no more money for rent. And not much for food, either. His parents, his little sister, and their dog may have to live in their minivan. Again.
Crenshaw is a cat. He's large, he's outspoken, and he's imaginary. He has come back into Jackson's life to help him. But is an imaginary friend enough to save this family from losing everything?
Beloved author Katherine Applegate proves in unexpected ways that friends matter, whether real or imaginary.
Crenshaw
is an important book for children. Not many children's books have homelessness or financial difficulties as a part of the plot. When they do, they're usually pretty dark. This one looks at the issue with a cheerful, "make the best of it" attitude. It does acknowledge how difficult it is for the family, but it isn't a dark book in general. Overall, it shows all of the family's difficulties through the eyes of the main character, Jackson, and how Jackson deals with his own struggles.