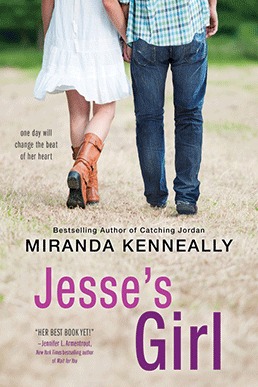 Jesse's Girl
Miranda Kenneally
Sourcebooks Fire, 2015
Source: E-Galley, Library
Audience: Older Teens
From
Goodreads
:
Everyone at Hundred Oaks High knows that career mentoring day is a joke. So when Maya Henry said she wanted to be a rock star, she never imagined she'd get to shadow *the* Jesse Scott, Nashville's teen idol.
But spending the day with Jesse is far from a dream come true. He's as gorgeous as his music, but seeing all that he's accomplished is just a reminder of everything Maya's lost: her trust, her boyfriend, their band, and any chance to play the music she craves. Not to mention that Jesse's pushy and opinionated. He made it on his own, and he thinks Maya's playing back up to other people's dreams. Does she have what it takes to follow her heart—and go solo?
When I was about seven pages into
Jesse's Girl
, I thought it was going to be super predictable with annoying characters. I was expecting it to be a lame love story.
I have no idea why, because Miranda Kenneally's books are always so much more substantial and well-written than that. Maybe because this one featured singing, and not a sport?
So I kept going, and I loved that it was more
Ferris Bueller's Day Off
than it was a made-for-TV Disney Channel movie. (Nothing against those, either.) The characters were interesting and I wanted to see them get together. It's been a while since Kenneally's books first started coming out, and now I want to go back and read them in order. (And will we have a book with Maya's little sister and basketball soon?) In general, I loved
Jesse's Girl
and the development of the characters.