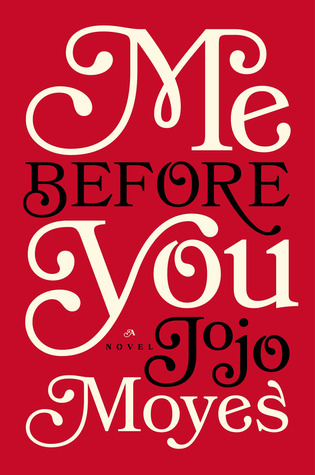 Me Before You
Jojo Moyes
Pamela Dorman Books/Viking, 2013
Source: E-Galley, My Own Bookshelf
Audience: Adults
From
Goodreads
:
Lou Clark knows lots of things. She knows how many footsteps there are between the bus stop and home. She knows she likes working in The Buttered Bun tea shop and she knows she might not love her boyfriend Patrick.
What Lou doesn't know is she's about to lose her job or that knowing what's coming is what keeps her sane.
Will Traynor knows his motorcycle accident took away his desire to live. He knows everything feels very small and rather joyless now and he knows exactly how he's going to put a stop to that.
What Will doesn't know is that Lou is about to burst into his world in a riot of colour. And neither of them knows they're going to change the other for all time.
Whew.
I read this (finally) because the movie is coming out soon. I've been meaning to read Jojo Moyes books - all of them - for ages. I just haven't gotten to them. I wish I had earlier, because this one was terrific. It was so well written. The only problem that I had with the book was the random chapters from another character's point of view. To me, it came off as an easier way for the author to write the story.
Other than that, I loved it. What a powerful story and how worthy of discussion! I loved the relationships between all of the characters, and how each of them evolved and affected each other's lives. I'm looking forward to seeing the movie and how the story is portrayed. (Personally, I kept imagining
Felicity Jones
as Lou, not
Emilia Clarke
, but I have a feeling that once I actually see the movie, that will go away.)