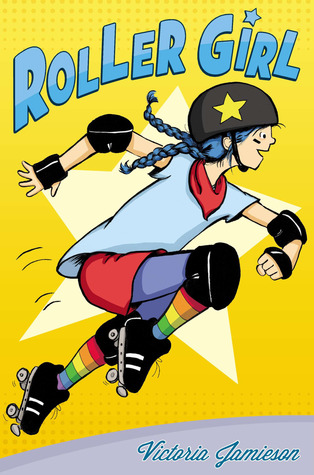 Roller Girl
Victoria Jamieson
Dial Books, 2015
Source: Library
Audience: Younger Teens, Children
From
Goodreads
:
Twelve-year-old Astrid has always done everything with her best friend Nicole. So when Astrid signs up for roller derby camp, she assumes Nicole will too. But Nicole signs up for dance camp with a new friend instead, and so begins the toughest summer of Astrid's life. There are bumps and bruises as Astrid learns who she is without Nicole...and what it takes to be a strong, tough roller girl.
The other day, I gave this book to a girl looking for Raina Telgemeier books. Of course, we didn't have any Raina Telgemeier books in the library. They're always checked out (and/or falling apart) because they're fantastic. She seemed interested in
Roller Girl
, but so was I. I was JEALOUS of the book that I gave her. So I put it on hold, and read it in a day.
I loved it.
Jamieson was a great artist and expressed teen feelings and friendships perfectly - without being preachy. Astrid made mistakes and wasn't perfect, but she learned and was still likable. She chose the perfect roller derby name and I wish I could think of a good one for myself. Not that I would ever be brave enough to play roller derby. Yikes. I would DEFINITELY get injured.
This book will teach girls that it's ok to be themselves and how to grow as a person.