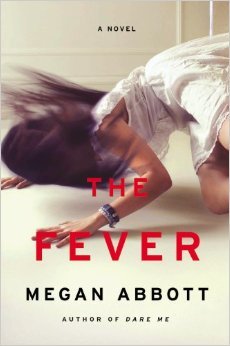 The Fever
Megan Abbott
Little, Brown and Company, 2014
Source: Library
Audience: Adults, Older Teens
From
Goodreads
:
The Nash family is close-knit. Tom is a popular teacher, father of two teens: Eli, a hockey star and girl magnet, and his sister Deenie, a diligent student. Their seeming stability, however, is thrown into chaos when Deenie's best friend is struck by a terrifying, unexplained seizure in class. Rumors of a hazardous outbreak spread through the family, school and community.
As hysteria and contagion swell, a series of tightly held secrets emerges, threatening to unravel friendships, families and the town's fragile idea of security.
I have mixed feelings about
The Fever
. On one hand it succeeded in freaking me out and making me think that I was going to get sick with whatever was going around in the community. On the other hand, I saw the shady character from a mile away and the ending disappointed me. It just took me too long to read and by the time I got to the last few chapters, the story was super anticlimactic. Additionally, the characters were hard to relate to, detached and undeveloped. Overall, it was just ok.