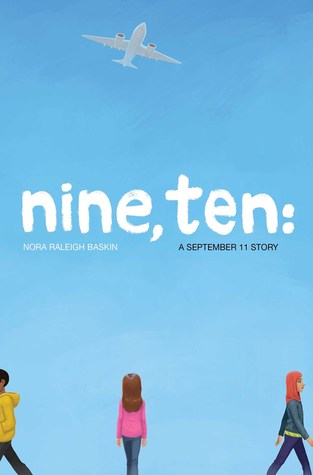 Nine, Ten
Nora Raleigh Baskin
Atheneum Books for Young Readers, 2016
Source: E-Galley
Audience: Younger Teens
From
Goodreads
:
From the critically acclaimed author of Anything But Typical comes a touching look at the days leading up to the tragic events of September 11, 2001 and how that day impacted the lives of four middle schoolers.

Ask anyone: September 11, 2001, was serene and lovely, a perfect day—until a plane struck the World Trade Center.

But right now it is a few days earlier, and four kids in different parts of the country are going about their lives. Sergio, who lives in Brooklyn, is struggling to come to terms with the absentee father he hates and the grandmother he loves. Will's father is gone, too, killed in a car accident that has left the family reeling. Nadira has never before felt uncomfortable about being Muslim, but at her new school she's getting funny looks because of the head scarf she wears. Amy is starting a new school in a new city and missing her mom, who has to fly to New York on business.

These four don't know one another, but their lives are about to intersect in ways they never could have imagined. Award-winning author Nora Raleigh Baskin weaves together their stories into an unforgettable novel about that seemingly perfect September day—the day our world changed forever.
Nine, Ten
was well-written and I liked it. At the beginning of the book, it felt like an
I Survived
story with less action and for older readers. The story had excellent diversity and a variety of perspectives from different parts of America. What I didn't like was the lack of focus on the day itself and its aftermath. A majority of
Nine, Ten
was about the lives of the children on the days leading up to September 11. Then, after describing the tragedy, it skipped to a year later. I felt like the author lost a good teaching opportunity by skipping the aftermath.
SPOILER ALERT
Also, I thought the author should have had at least one person in the story lose someone. As close as the four kids were to the attacks that day, I thought the story would have been more realistic and powerful if it described the losses through one child's eyes.
However, Baskin at least addressed that choice in her afterword. Still, I felt that it did her audience a disservice - like she may have thought that they couldn't handle it or something similar.
END SPOILER
Overall, it was a book that I think children will enjoy reading, and they will learn from it, too.