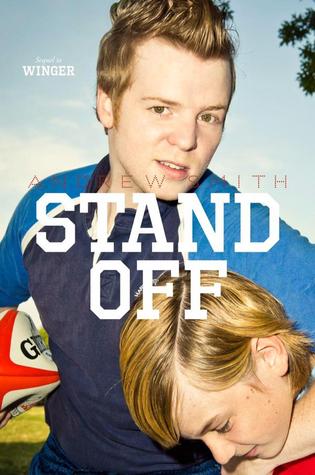 Stand-Off
Andrew Smith
Simon and Schuster Books for Young Readers, 2015
Source: E-Galley
Audience: Older Teens
From
Goodreads
:
It's his last year at Pine Mountain, and Ryan Dean should be focused on his future, but instead, he's haunted by his past. His rugby coach expects him to fill the roles once played by his lost friend, Joey, as the rugby team's stand-off and new captain. And somehow he's stuck rooming with twelve-year-old freshman Sam Abernathy, a cooking whiz with extreme claustrophobia and a serious crush on Annie Altman—aka Ryan Dean's girlfriend, for now, anyway.
Equally distressing, Ryan Dean's doodles and drawings don't offer the relief they used to. He's convinced N.A.T.E. (the Next Accidental Terrible Experience) is lurking around every corner—and then he runs into Joey's younger brother Nico, who makes Ryan Dean feel paranoid that he's avoiding him. Will Ryan Dean ever regain his sanity?
I loved
Stand-Off
. It was a great sequel to a great book. Ryan Dean was still struggling with the death of his friend when a new challenge showed up - a freshman, just like he was. I wish that we could have a third book. Is that too much to ask for?