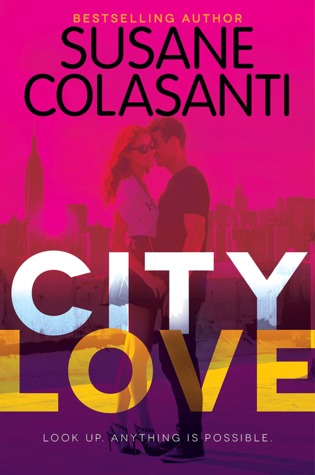 City Love
Susane Colasanti
Katherine Tegen Books, 2015
Source: E-Galley, Library
Audience: Older Teens
From
Goodreads
:
Sadie, Darcy, and Rosanna are living together in New York City the summer before their freshman year of college begins. With no parents, no rules, and an entire city to explore, these three girls are on the verge of the best summer of their lives.
Sadie is a native New Yorker. She is hopeful, romantic, and an eternal optimist who is ready to find her soul mate. Then she meets her dream boy: cute, funny, and quirky in all the right ways. The chemistry between them is unreal. Could he be the one?
Darcy is a free spirit from SoCal with rebellious tendencies and unlimited financial resources. Moving to New York City is just another adventure for her. Darcy wants this summer to be all about boy adventures—nothing serious. But how much fun is too much?
Rosanna leaves Chicago for NYC so she can put her past behind her and reinvent herself. The only thing standing in her way is the grand total of seventy-three cents she has saved. Then she meets a guy who wants to show her the glamorous side of New York—a side that she would never get to experience on her own. If Rosanna doesn't resist, she may find herself in city love.
Told from alternating points of view,
City Love
captures the moments in each girl's life when everything is thrilling, amazing, and terrifying all at once . . . in a way it will never be again.
Well, nuts. I raced to read
City Love
so I could review the sequel via E-Galley, and I failed. The E-Galley EXPIRED. Oh, a book bloggers worst nightmare!
So at first the narration in the novel absolutely drove me crazy. I think it was too accurately reflecting teen girls' voices. Once I got used to that, it was ok. I got the feeling that
City Love
was Susane Colasanti's love letter to New York City. Additionally, the romance was a little too swoony and too easy. Overall, I would describe it as
syrupy
. While a grown woman (I suppose that's what I am, even though it doesn't feel like that) found it unrealistic and annoying, I think teen girls would love it. Honestly, I think it was written more for older teens, judging by the age of the characters and some of the content, but I have a feeling that younger teens would love it more. Basically, there's a romantic storyline for almost every type of romance in this book. At the end, reality did come crashing down a little bit, but not so much that it would ruin the story for readers.
In general, I liked it well enough, and I'll probably read the sequel, but teen girls really are the audience for
City Love
.