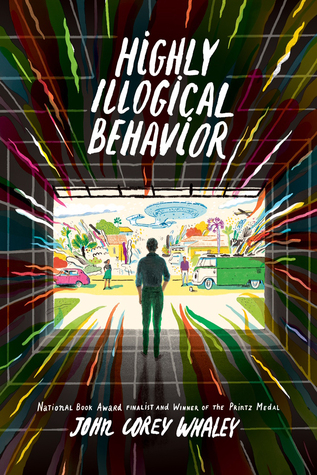 Highly Illogical Behavior
John Corey Whaley
Dial Books, 2016
Source: My Own Bookshelf/E-Galley
Audiences: Older Teens
Decathlon Challenge: Day 3, Book 2
From
Goodreads
:
Sixteen-year-old Solomon is agoraphobic. He hasn't left the house in three years, which is fine by him.
Ambitious Lisa desperately wants to get into the second-best psychology program for college (she's being realistic). But is ambition alone enough to get her in?
Enter Lisa.
Determined to "fix" Sol, Lisa steps into his world, along with her charming boyfriend, Clark, and soon the three form an unexpected bond. But, as Lisa learns more about Sol and he and Clark grow closer and closer, the walls they've built around themselves start to collapse and their friendships threaten to do the same.
I've been waiting for a teen book like this. It's been so LONG since I've read one that's 100% amazing and I couldn't put down. Whaley's ability to describe exactly what Solomon was thinking and feeling took my breath away. It didn't end the way that I hoped, but it was still wonderful. I'm so glad I own this book so I can read it, or push it on other people, any time that I want.
Also, I want a sequel.
Now.