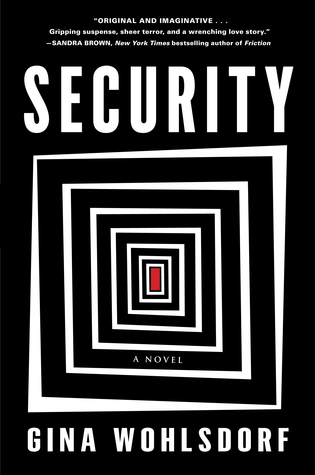 Security
Gina Wohlsdorf
Algonquin Books, 2016
Source: Library
Audience: Adults
Decathlon Challenge - Day 1, Book 1 (In which I try to read ten books in ten days!)
From
Goodreads
:
Manderley Resort is a gleaming, new twenty-story hotel on the California coast. It's about to open its doors, and the world--at least those with the means to afford it--will be welcomed into a palace of opulence and unparalleled security. But someone is determined that Manderley will never open. The staff has no idea that their every move is being watched, and over the next twelve hours they will be killed off, one by one.
Writing in the tradition of Edgar Allan Poe and Stephen King, and with a deep bow to Daphne du Maurier, author Gina Wohlsdorf pairs narrative ingenuity and razor-wire prose with quick twists, sharp turns, and gasp-inducing terror.
Security
is
grand guignol
storytelling at its very best.
A shocking thriller, a brilliant narrative puzzle, and a multifaceted love story unlike any other,
Security
marks the debut of a fearless and gifted writer.
It was compared to Hitchcock's work on the inside flap, so I was hopeful about that. Also, based on the description, I was expecting a mystery similar to
And Then There Were None
.
Nope. No Agatha Christie or
Rear Window
here.
What I got was a grisly horror novel, in which violence, blood and sex were more important than suspense, motive and figuring out whodunit. So yeah, not for young readers.
It reminds me of the time when I watched
A Perfect Getaway
because it was supposed to be "Hitchcockian" but I just thought it was awful.
However, while the movie
A Perfect Getaway
was disappointing,
Security
was still a decent read. The characters had a unique backstory and I wanted to see them survive. As I said earlier, some of the romance and grisliness was laid on a bit thick, but I still liked it.