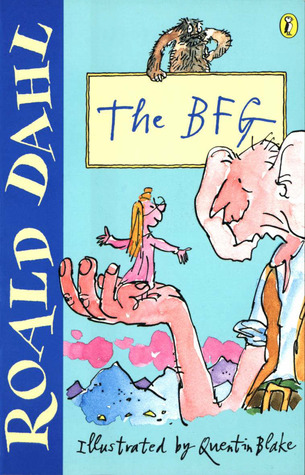 The BFG
Roald Dahl
Puffin Books, 1982
Source: Library
Audience: Children
From Goodreads:
Captured by a giant! The BFG is no ordinary bone-crunching giant. He is far too nice and jumbly. It's lucky for Sophie that he is. Had she been carried off in the middle of the night by the Bloodbottler, the Fleshlumpeater, the Bonecruncher, or any of the other giants-rather than the BFG-she would have soon become breakfast.
When Sophie hears that they are flush-bunking off in England to swollomp a few nice little chiddlers, she decides she must stop them once and for all. And the BFG is going to help her!
I remember reading
The BFG
as a child, and it wasn't one of my Roald Dahl favorites. (My favorites were
Fantastic Mr. Fox, Matilda, The Witches
and
Charlie and the Chocolate Factory.
) Now that I have read it as an adult, I see why. The BFG has a strange way of speaking that takes some getting used to. Also, the beginning was kind of scary for a children's book. In spite of all that, I enjoyed reading
The BFG
and was looking forward to the ending.
I re-read
The BFG
because I am looking forward to seeing the movie. I'm curious as to how the book will be adapted. I wonder if it will be fairly faithful to the book, like
Matilda
(the movie) was, or if it will be a looser interpretation, like
Willy Wonka and the Chocolate Factory.
Either way, I will always love Roald Dahl.