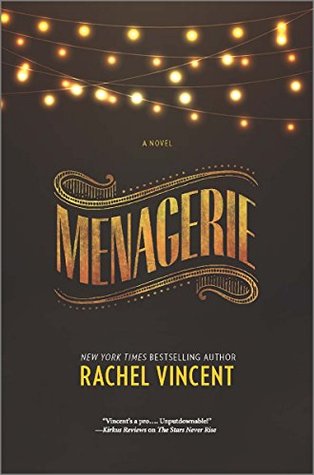 Menagerie
Rachel Vincent
Mira, 2015
Source: E-Galley
Audience: Adults, Older Teens
From
Goodreads
:
When Delilah Marlow visits a famous traveling carnival, Metzger's Menagerie, she is an ordinary woman in a not-quite-ordinary world. But under the macabre circus black-top, she discovers a fierce, sharp-clawed creature lurking just beneath her human veneer. Captured and put on exhibition, Delilah in her black swan burlesque costume is stripped of her worldly possessions, including her own name, as she's forced to "perform" in town after town.
But there is breathtaking beauty behind the seamy and grotesque reality of the carnival. Gallagher, her handler, is as kind as he is cryptic and strong. The other "attractions"—mermaids, minotaurs, gryphons and kelpies—are strange, yes, but they share a bond forged by the brutal realities of captivity. And as Delilah struggles for her freedom, and for her fellow menagerie, she'll discover a strength and a purpose she never knew existed.
Renowned author Rachel Vincent weaves an intoxicating blend of carnival magic and startling humanity in this intricately woven and powerful tale.
Well, I completely enjoyed
Menagerie
. I thought it might be too much like
The Night Circus
but it wasn't. Vincent's book was fast-paced and full of ethics and emotion. There wasn't a love triangle (thank goodness) and the supernatural was not too crazy for me. I loved the solution that Delilah came up with in the end, and I'm looking forward to seeing how it works out in book two!