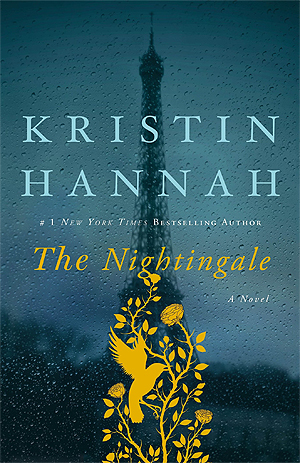 The Nightingale
Kristin Hannah
St. Martin's Press, 2015
Source: Library
Audience: Adults, Older Teens
From
Goodreads
:
Despite their differences, sisters Vianne and Isabelle have always been close. Younger, bolder Isabelle lives in Paris while Vianne is content with life in the French countryside with her husband Antoine and their daughter. But when the Second World War strikes, Antoine is sent off to fight and Vianne finds herself isolated so Isabelle is sent by their father to help her.
As the war progresses, the sisters' relationship and strength are tested. With life changing in unbelievably horrific ways, Vianne and Isabelle will find themselves facing frightening situations and responding in ways they never thought possible as bravery and resistance take different forms in each of their actions.
I thought this book would be an overrated, cheesy story filled with plot points that other people have written about in dozens of other stories. I was pleasantly surprised to find a creative and original story that I absolutely could not put down. The juxtaposition of the sisters was interesting, but their storyline got even better at the end of the book when you realized how similar they were - they just went about things in different ways. The best part of
The Nightingale
was guessing who was the nightingale. Often, I was convinced it was one sister, just to change my mind in the next chapter. Overall, it was fantastic and everyone should read it.