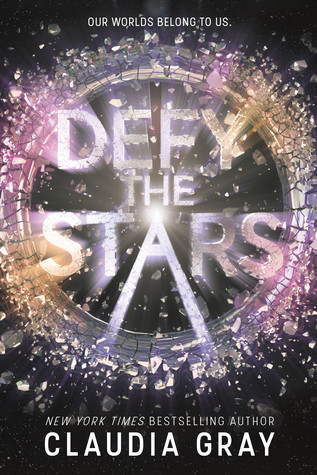 Defy the Stars
Claudia Gray
Little, Brown Books for Young Readers, 2017
Source: My Own Bookshelf, E-Galley
Audience: All Teens
From
Goodreads
:
She's a soldier.
Noemi Vidal is seventeen years old and sworn to protect her planet, Genesis. She's willing to risk anything—including her own life. To their enemies on Earth, she's a rebel.
He's a machine.
Abandoned in space for years, utterly alone, Abel has advanced programming that's begun to evolve. He wants only to protect his creator, and to be free. To the people of Genesis, he's an abomination.
Noemi and Abel are enemies in an interstellar war, forced by chance to work together as they embark on a daring journey through the stars. Their efforts would end the fighting for good, but they're not without sacrifice. The stakes are even higher than either of them first realized, and the more time they spend together, the more they're forced to question everything they'd been taught was true.
Normally, I'm not a big sci-fi person. If it's sci-fi with more fantasy, then I'm more likely to read and enjoy it. However,
Defy the Stars
was pretty much pure sci-fi. And the pages - oh, there were SO MANY PAGES. It could have ended so many times, but it keep going and going and going. I'm glad that I read it, but I personally feel that it could have been shorter. In spite of that, the action and adventure were exciting, and someone who likes science fiction will love
Defy the Stars
. Everyone else might enjoy it as well. Bonus for fans - there are more books coming!