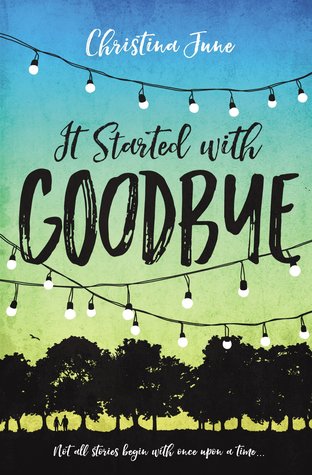 It Started With Goodbye
Christina June
Blink/HarperCollins, 2017
Audience: All Teens
Source: Library
From
Goodreads
:
Sixteen-year-old Tatum Elsea is bracing for the worst summer of her life. After being falsely accused of a crime, she's stuck under stepmother-imposed house arrest and her BFF's gone ghost. Tatum fills her newfound free time with community service by day and working at her covert graphic design business at night (which includes trading emails with a cute cello-playing client). When Tatum discovers she's not the only one in the house keeping secrets, she finds she has the chance to make amends with her family and friends. Equipped with a new perspective, and assisted by her feisty step-abuela-slash-fairy-godmother, Tatum is ready to start fresh and maybe even get her happy ending along the way.
So apparently, this was a Cinderella retelling? Totally did NOT get that from the book. Once it was explained in the back, I saw it, but I never would have expected it or seen it on my own. (Maybe I should have read the book's description? I didn't, because I heard it was a contender for the Printz award. While I enjoyed it, it's not THAT good.) Also, the cover didn't really match the story, in my humble opinion.
All of that being said, I enjoyed the book. I thought her stepmom was a little intense, but that made more sense once I saw the Cinderella connection. Also, I didn't understand why her friend was so mad at her. Tatum should have been mad at her friend for getting Tatum in trouble, not the other way around! Also, the "twist" at the end - I saw that coming and figured it out. Well, most of it, anyway. So if you're looking for something light, fluffy and predictable, you'll enjoy
It Started With Goodbye
.