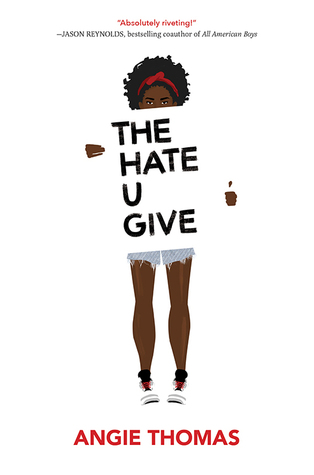 The Hate U Give
Angie Thomas
Blazer + Bray/HarperTeen, 2017
Audience: Older Teens, Adults
Source: Library, E-Galley
From
Goodreads
:
Sixteen-year-old Starr Carter moves between two worlds: the poor neighborhood where she lives and the fancy suburban prep school she attends. The uneasy balance between these worlds is shattered when Starr witnesses the fatal shooting of her childhood best friend Khalil at the hands of a police officer. Khalil was unarmed.
Soon afterward, his death is a national headline. Some are calling him a thug, maybe even a drug dealer and a gangbanger. Protesters are taking to the streets in Khalil's name. Some cops and the local drug lord try to intimidate Starr and her family. What everyone wants to know is: what
really
went down that night? And the only person alive who can answer that is Starr.
But what Starr does or does not say could upend her community. It could also endanger her life.
What an important and timely novel. I can't imagine anyone else having written
The Hate U Give
. Thomas had such excellent writing skills that I felt like I could see all of the descriptions and feel everything the main character felt. As difficult as it may be for some people, everyone should read this book. The topic is tough for sure, but everyone can learn from it. I loved it.
My only criticism was that I wanted to know where it was taking place. My "reader intuition" says that the location wasn't named to make the story more powerful - because it could happen anywhere. However, I really wanted to know what part of the country they were in. Also, "Thug Life" was explained to us way to many times. I could remember what it stood for. Other than that,
The Hate U Give
was perfect. It'll definitely win awards.