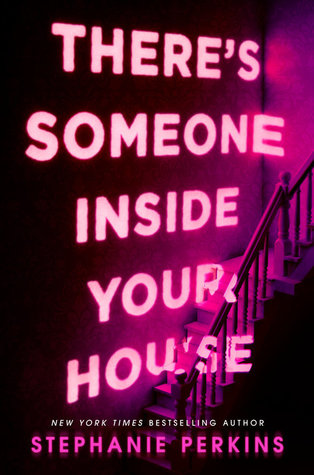 There's Someone Inside Your House
Stephanie Perkins
Dutton Books for Young Readers, 2017
Source: My Own Bookshelf
Audience: Older Teens, Adults
From
Goodreads
:
One-by-one, the students of Osborne High are dying in a series of gruesome murders, each with increasing and grotesque flair. As the terror grows closer and the hunt intensifies for the killer, the dark secrets among them must finally be confronted.
International bestselling author Stephanie Perkins returns with a fresh take on the classic teen slasher story that's fun, quick-witted, and completely impossible to put down.
1. For the life of me, I could not remember the title of this book. If you get one word wrong, it doesn't come up in the search engine! Horrible!
2.
There's Someone Inside Your House
was like Thanksgiving dinner. Think about it. It takes HOURS to prepare the food. Then, when it's finally done, it only takes 20 minutes to eat and then it's over, and you're stuck waiting until the next Thanksgiving. Stephanie Perkins took a long time and a lot of effort to write this great book, and then it was released and I read it in a few days and now I have to just WAIT for the next one. Oh, it's hard being a reader. (For the record, Stephanie Perkins books are always worth the wait! They're fantastic!)
3. I loved the book. It was scary and mysterious. The main characters were fun to root for, and I loved that Perkins included a corn maze. Stephanie Perkins can write romance AND horror. Honestly, I think she can write anything and I'll love it!
4. Adults will enjoy this teen novel, too.
5. One plot hole and potential spoiler - if people are being murdered one by one, WHY WOULDN'T YOU FIX YOUR WINDOW THAT WON'T LATCH? (That was the only "Don't go in the basement, oh my gosh you're so stupid" moment of the book. Not bad. Most teen horror novels are just stupid all around. This was definitely an exception.)
6. There. I feel better.