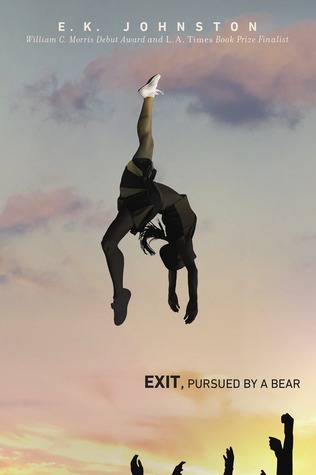 Exit, Pursued by a Bear
E.K. Johnston
Dutton Books for Young Readers, 2016
Source: Library
Audience: Older Teens, Adults
From
Goodreads
:
Hermione Winters is captain of her cheerleading team, and in tiny Palermo Heights, this doesn't mean what you think it means. At PHHS, the cheerleaders don't cheer for the sports teams; they are the sports team—the pride and joy of a tiny town. The team's summer training camp is Hermione's last and marks the beginning of the end of… she's not sure what. She does know this season could make her a legend. But during a camp party, someone slips something in her drink. And it all goes black.
In every class, there's a star cheerleader and a pariah pregnant girl. They're never supposed to be the same person. Hermione struggles to regain the control she's always had and faces a wrenching decision about how to move on. The assault wasn't the beginning of Hermione Winter's story and she's not going to let it be the end. She won't be anyone's cautionary tale.
I think someone should make up a word to describe the moment when you thought you reviewed something that you read ages ago, and then find out that you haven't. (The same goes for when you can't find the emoji you are looking for.) I'm guessing that I just read
Exit, Pursued by a Bear
so fast that I didn't even think to add it to my Goodreads.
Seriously, I couldn't put it down.
Even though I try to avoid tragic books, and this story was devastating, I am glad that I read
Exit, Pursued by a Bear
. Normally, after a while, I forget details about books. However, with this one, I was so invested in the ending that I remember every moment and I was so happy with how it went down. Had it ended any other way, I would have been furious and devastated.