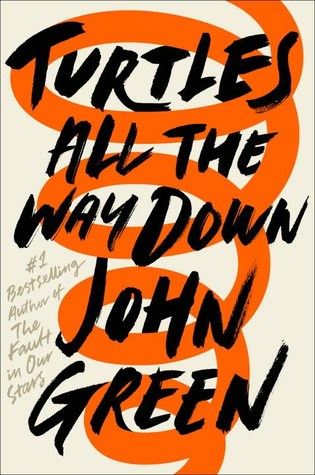 Turtles All the Way Down
John Green
Dutton Books for Young Readers, 2017
Source: My Own Bookshelf
Audience: All Teens
Sixteen-year-old Aza never intended to pursue the mystery of fugitive billionaire Russell Pickett, but there's a hundred-thousand-dollar reward at stake and her Best and Most Fearless Friend, Daisy, is eager to investigate. So together, they navigate the short distance and broad divides that separate them from Russell Pickett's son, Davis.
Aza is trying. She is trying to be a good daughter, a good friend, a good student, and maybe even a good detective, while also living within the ever-tightening spiral of her own thoughts.
I think that Turtles All the Way Down is my favorite John Green book. Do I need to say more?
It was part mystery, part romance, part devastating. I loved it.
Honestly, the best part of Turtles All the Way Down was not in the book - it was the book tour itself. If anyone has a chance to see John Green in person, they should do it. It's worth it, I guarantee it. And the best part of John Green's book tour was the fact that John Green stopped in my town and said hello to all of the librarians. It was amazing, and I will never forget it.