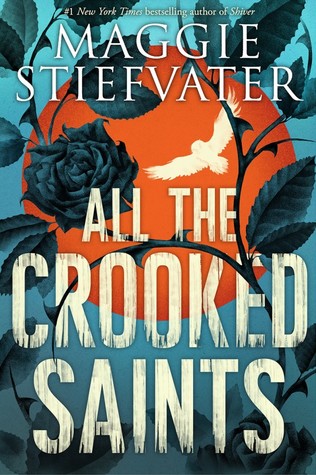 All the Crooked Saints
Maggie Stiefvater
Scholastic Press, 2017
Source: Library
Audience: Older Teens
Any visitor to Bicho Raro, Colorado is likely to find a landscape of dark saints, forbidden love, scientific dreams, miracle-mad owls, estranged affections, one or two orphans, and a sky full of watchful desert stars.
At the heart of this place you will find the Soria family, who all have the ability to perform unusual miracles. And at the heart of this family are three cousins longing to change its future:
Beatriz
, the girl without feelings, who wants only to be free to examine her thoughts;
Daniel
, the Saint of Bicho Raro, who performs miracles for everyone but himself; and
Joaquin
, who spends his nights running a renegade radio station under the name Diablo Diablo.
They are all looking for a miracle. But the miracles of Bicho Raro are never quite what you expect.
Whew, All the Crooked Saints was written on a high reading level! If my attention drifted in the slightest, I had to go back and re-read. It was so beautifully written. The Scorpio Races will always be my favorite, but I loved All the Crooked Saints as well. The concept felt unique and I love magical realism, which Stiefvater did fantastically. I plan on rereading it (and therefore understanding it better) and I hope that teens enjoyed it as much as I did.