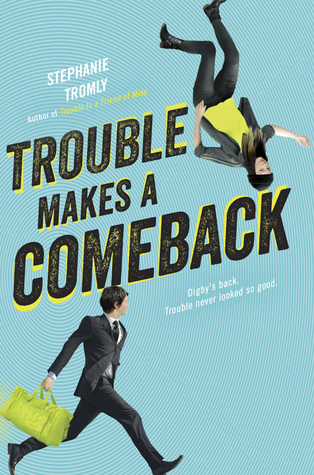 Trouble Makes a Comeback
Stephanie Tromly
Kathy Dawson Books, 2016
Source: Library, E-Galley
Audience: All Teens
From
Goodreads
:
Achieving high school "normal" wasn't as hard as Zoe Webster expected, but she's beginning to think Hollywood oversold how much
fun
it all is. Isn't dating a jock supposed to be one long Instagram dream? Shouldn't she enjoy gossiping 24/7 with her two BFFs? And isn't this, the last year before the finish line that is Princeton, meant to be one of her best? If "normal" is the high school goal, why can't Zoe get Philip Digby—decidedly abnormal, completely chaotic, possibly unbalanced, undoubtedly rude, and somehow…entirely magnetic—out of her mind?
However normal Zoe's life finally is, it's about to get blown up (metaphorically. This time. She hopes, anyway.*) when Digby shows up on her doorstep. Again. Needing her help to find his kidnapped sister. Still. Full of over-the-top schemes and ready to send Zoe's life into a higher gear. Again.
It's time for Zoe Webster to choose between staying in the normal lane, or taking a major detour with Digby (and finally figuring out what that stolen kiss actually meant to him).
Guess which she chooses?
* This is a mistake; Zoe should know better than to expect there not to be explosions when Digby is in town.
Mixing humor and mystery is not easy to accomplish. When it is done well, it's fantastic, and that's what Stephanie Tromly does with her "Trouble" series. I'm excited to read the third book. While I do want to find out what happened to Digby's sister, I fear that will cause an end to the series, which I don't want to happen. However, a trilogy is to be expected and I suppose I can always re-read the books.