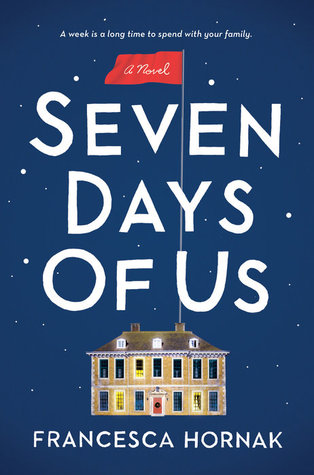 Seven Days of Us
Francesca Hornak
Berkley, 2017
Source: E-Galley
Audience: Adults, Older Teens
From
Goodreads
:
Emma is elated at having everybody under one roof, but her oldest child, Olivia, is only home because she has nowhere else to go. She's just returned from treating an epidemic abroad and must stay in quarantine for a week - and so, too should her family.
For the next seven days, no one can leave the house and no one can enter.
It doesn't sound too hard. But a week with your nearest and dearest can feel like an eternity, especially when they're all harbouring secrets.
One of whom is about to come knocking at their door...
I enjoyed
Seven Days of Us
. Honestly, though, a lot of this family's problems could have been solved if they had JUST TALKED TO EACH OTHER. However, that would have made for a far less interesting book! The DRAMA. Seriously. At times, I was frustrated that I was so far ahead of the characters and wanted to fix everything for them. I did like it, especially the fact that it was a Christmas book but not super sappy. Overall, it was a good book.