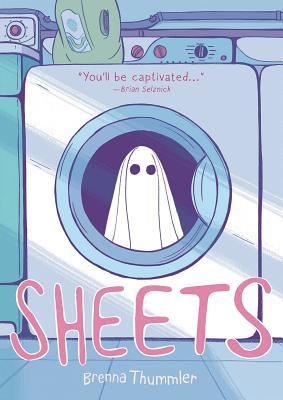 Sheets
Brenna Thummler
Lion Forge, 2018
Source: Library
Audience: Younger Teens
From
Goodreads
:
Marjorie Glatt feels like a ghost. A practical thirteen year old in charge of the family laundry business, her daily routine features unforgiving customers, unbearable P.E. classes, and the fastidious Mr. Saubertuck who is committed to destroying everything she's worked for.
Wendell is a ghost. A boy who lost his life much too young, his daily routine features ineffective death therapy, a sheet-dependent identity, and a dangerous need to seek purpose in the forbidden human world.
When their worlds collide, Marjorie is confronted by unexplainable disasters as Wendell transforms Glatt's Laundry into his midnight playground, appearing as a mere sheet during the day. While Wendell attempts to create a new afterlife for himself, he unknowingly sabotages the life that Marjorie is struggling to maintain.
Sheets
was promoted like crazy. I saw ads for it everywhere, especially in my e-mails from publishers. The marketing worked - I really wanted to read it! It finally came in for me at the library, and I opened the book and had an immediate reaction: I do not like this art. It was NOT my style. Usually art that disagrees with me means that I don't read the book. I gave this one my best try and did finish it, but I still didn't like it. I found
Sheets
highly unbelievable, and not in a good, ghosty sort of way. It was just sad. The characters were flat and I didn't care about the ghosts, or like how they were portrayed by sheets and the villain was pretty cliche. Also, the story didn't feel like anything new; I felt like I had read it before in other stories. I think that younger teens might like it because they aren't as familiar with stories in general, and they'll be impressed with all of the adulting that the main character needed to do. It was definitely not for me, however.