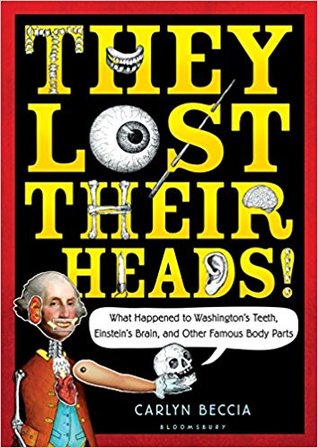 They Lost Their Heads!
Carlyn Beccia
Bloomsbury USA Childrens, 2018
Source: Library
Audience: Children
From the kidnapping of Einstein's brain to the horrifying end of Louis XIV's heart, the mysteries surrounding some of history's most famous body parts range from medical to macabre. Carlyn Beccia explores the misadventures of noteworthy body parts through history and springboards to exploring STEM topics such as forensics, DNA testing, brain science, organ donation, and cloning. The engaging tone, wonderfully creepy subject matter, and delightfully detailed art are sure to capture even the most reluctant readers.
How They Croaked was better.
I enjoyed the book until I found a fact that said that Diego Rivera ate cadavers. After further investigation, my husband discovered that Rivera really exaggerated in his autobiography, and it probably wasn't true. Regardless of whether or not it was true, it should have been researched better by the author... I wouldn't have probably included this fact in the book. After that, I didn't really trust it anymore and decided to stop reading it. So kids will like it and think it's fun, but it wasn't for me.